De uundværlige grydelapper
Jeg har efterhånden hæklet en del af disse grydelapper til mig selv, men også til familien.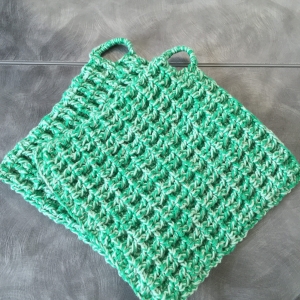 De er dejlige tykke, da de er hæklet i dobbelt garn. Så det er slut med at brænde fingrene, når du skal have noget varmt ud af ovnen.
De kan hækles i et utal af farver – ensfarvede i alverdens farver og flervarmet, som dem jeg har lavet her. Så det er bare at bruge fantasien, hvad dine yndlingsfarver er eller måske få brugt nogle rester fra skabet. Der går ca. 3 nøgler garn til et sæt grydelapper. Dog skal du beregne lidt mere hvis du vil have dem flerfarvede – ca. 75 g. i alt pr. grydelap.
Opskriften jeg bruger er fra Stof & Stil – se her, men du kan også en opskrift hos Karen Klarbæk, som også laver masser af disse grydelapper – og vist også sælger dem i nogle butikker. Hendes opskrift finder du her.
Jeg håber du nu har fået mod på at gå i gang med at lave grydelapper. De er ikke svære at lave, og du bliver afhængig af at bruge dem. God fornøjelse.
https://mineguldkorn.dk/wp-content/uploads/2016/08/IMG_2394-e1471171777331.jpg
2448
2448
Lene Johnsen
https://mineguldkorn.dk/wp-content/uploads/2016/04/Top_Logo_Mine_Guld_Korn.png
Lene Johnsen
2016-08-14 17:46:55
2018-09-23 16:36:21
De uundværlige grydelapper